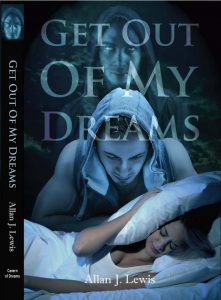 Alice and John Timberlake lead a quiet life in the suburbs of California. John is a prison officer at the California State Prison, and Alice assists the Agony Aunt Columnist, with big dreams of becoming a reporter.
One morning they awaken to find their lives turned upside down – John is on the couch with no recollection of how he got there, the front door lock is unbolted, and the alarm is disarmed. Alice's underwear is neatly folded on top of her slippers – she knows she went to bed wearing them. Fearing they may have been victimized in their own home, they contact the authorities.
John and Alice discover they have been the latest victims of "The Magic Man," a rogue hypnotist that gets into people's dreams, makes them do his bidding and has them reveal their darkest secrets. The FBI considers him a threat to the country. Some departments within the halls of justice want him eliminated; others think his talents could help solve crimes. They ask for John and Alice's help to bring The Magic Man to heel but none of them realize that their intended target is manipulating them. Everyone has secrets, and The Magic Man knows them all.
When a steamy fantasy shared between Alice and The Magic man unveils a unique connection between them, it changes the rules of his game. All Alice and John want is for The Magic Man to get out of their dreams – but now, they can never go back to the life they had before….
Buy Now from Amazon
Reviews for Get Out Of My Dreams
WOW what a read – 
so it was an excellent read could not put the book down.it got me thinking if this was possible to read someone's mind like this i would not be able to sleep at night. the story and plot were enthrauling and look forward to his next book about Joe. Would definately recommend this book to friends and family.
Bizarre story, with future promise
 – Get Out of My Dreams is a truly odd mix of the supernatural, crime solving, and very light porn. The supernatural comes into play because the main character, Joe, is able to leap into people's dreams, and get into their heads and thoughts. The crime solving comes in as the FBI and Homeland security is interested in Joe as either a team member or a threat. Joe and one of his dream friends participate in some crime solving to show that he's a good guy and to build her career. And the light porn comes in with what Joe has people do in their dreams. The dreamers mostly enjoy it, except for an unsettling feeling of not understanding what was happening.
Get Out of My Dreams is a very different story. I wasn't sure I enjoyed it, but also felt compelled to read to the end. Most importantly, I believe AJ Lewis May be a talented writer, and it will be interesting to see what his next book brings.
Unusual – 
This story was different, its concept unusual and clever. The idea of being able to be part of another's dreams and to control them is intriguing – the powers that be of course wanting to use it as a weapon (nothing new there then). I don't want to give away too much but will say that this is a well written piece with the basis of a good idea. Worth a look for those who like something different."
New Author, a good start – 
Get out of my Dreams is an interesting, and unique premise for a story, centering on the possibility of dream invasion. A husband and wife begin to experience bizarre dreams, and on awakening can't remember what happened. But certain clues lead them to realise that they are acting out the dreams whilst sleeping. And what's more, they are having the same dream. Before long the FBI are involved, and the chase is on to find a criminal, one who takes invasion of privacy to the ultimate level.
This is the author's first book and is a refreshing approach to the genre(s), I say that in the plural, as it fits into more than one category. There is mild erotica, alongside the crime, thriller, mystery and suspense. Whilst I felt the pace in some areas to be a little slow, and some parts of the dialogue didn't ring true, it was a good attempt by the author to bring something new to the market, and I'm interested to see what his next work is going to be.
A GREAT NOVEL, FOR ADULTS ONLY! – 
Defiantly not one for the under 18's out there but overall a most enjoyable read. What would you do if you could not only enter peoples dreams but actually interact with them? Yes, I can imagine and you won't be disappointed in this new twist on the genre. Throw the FBI, DHS and the criminal elite into the mix and you are in for a story that carries you effortlessly along. Definitely well worth a read!
Five Stars – 
A SPECTACULAR READ FOR ALL AGES KEEPS YOU INTERESTED ALL THE WAY THROUGH .
Hard to put down! – 
I received a complimentary copy of the book from the author via Voracious Readers Only . Wasn't sure what to expect but enjoyed it. The author kept you on the edge of your seat as to what would happen next. Didn't think it really needed the explicit sexual content but the storyline on a whole was good. The type of story where your job gets in the way of reading. Scary to think that someone could get inside your head and make you do things without you knowing. The characters were all likeable – even the Magic Man. I enjoy mystery stories and this was a definite mystery too the end. Well worth a read