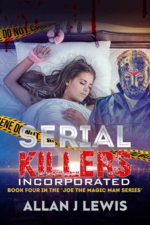 Somewhere in the north-east of America, there is a serial killer on the loose, he abducts young women and keeps them as his sex slaves for a few months, before he shares them with his associate. They then kill the girls and leave them wrapped tidily in a blanket to be found next day.
The FBI believes the killer has murdered over forty women going back some twenty years because of the same MO, and they call him the Blanket Killer.
When an eighteen-year-old girl, Natalie Lowe is abducted the FBI thinks it might be the killer's latest victim, and they are eager to catch him before he tires of the girl and kills her and then moves on to his next victim.
Frank Brubaker the Deputy Director of the FBI decides to use his new weapon to try and catch the killer. He has formed a secret task force of just two FBI Special Agents to work with two civilians, who are, the elusive crime fighter also known as Joe the Magic Man, who keeps his true identity a secret, even from his close associate Alice Timberlake a free-lance journalist. Joe has a special gift; he can get into people's minds and then into their dreams at night, where he can hypnotize them and once they are under his spell he can get them to tell him their innermost secrets, and they can't lie to him. That's exactly what the FBI wants Joe to do for them, get into criminals minds and have them spill the beans.
Can Joe and his team catch the killers before they kill Natalie?
Buy Now from Amazon