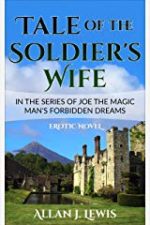 Join Joe the Magic Man in his forbidden dreams as he takes Jean Thornton back to King Henry the VIII's time. An erotic tale where Jean joins the King's Army as a Soldier's Wife so she can be with her newlywed husband as they march from London to York.
The lustful looks from the other soldiers leave Jean wondering if she made the right choice. When Sergeant Johnny Brown offers her and her husband protection, it comes at a steep cost. Will Jean embrace life as a Soldier's Wife and all the perils that come with it?
When she meets Captain Jack Morgan, the most handsome man she's ever seen, he pulls rank on Sergeant Brown. The newlyweds accept him into their bed and more adventures ensue. Jean ends up in situations she never expected and in a foreign land she never thought she'd see.
Find out what happens to Jean on her adventures with her husband, Sergeant Brown and Captain Morgan.
Buy Now from Amazon