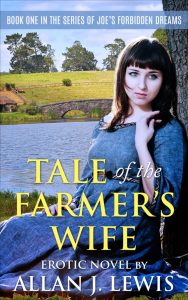 Join Jean Thornton in another erotic tale in the series of "Joe the Magic Man's Forbidden Dreams"
Joe takes Jean back in time to a Welsh Village in the 15th century where Jean is a young farmer's wife, and her father-in-law, Joe, wants her to pay the farm bills in sexual favours to the Monastery.
Jean meets the handsome Father John and falls for is charm without knowing it was part of Joe's plan. Jean's husband Steve also falls for his father's plan as Joe tells him that Jean is too much woman for one man and Steve should let Jean take Father John as a lover.
Joe told them Father John was well-liked by the ladies and Jean agrees to have a threesome. Jean and Steve believe Joe when he says that Father John will make Jean into a woman, but they are both afraid that Jean might fall in love with Father John and run away with him, as Joe's plan starts to take shape and Jean falls under Father John's charm.
Jean ends up having more lovers than she can cope with, as she pays her way on the farm with her husband's blessing.
Buy Now from Amazon