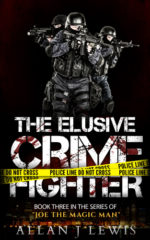 The FBI took a courageous step to look into the unsolved murder and the abduction of a twenty-year-old woman in Los Angeles. After three years of searching for Judy, she returns home to her mother with a young child and another one on the way. The local police think she can help solve a murder that took place on the day of her disappearance. The FBI wants to know where she has been in the last three years and why did her abductor let her go and who was he, and did her abductor kill a well-known and much loved member of the community? The more vague Judy is with her answers, the more people think she might have organized her own kidnapping and now returned home because the ransom money ran out.
Frank Brubaker the Deputy Director of the FBI knew one sure way of finding out the truth of what happened that day. He handed the case over to his little secret task force; he called it little because it consisted of just two Special Agents (Campbell and Burrows) and two special civilians (Joe and Alice). He called it secret because "Joe the Magic Man" is a mysteriously gifted man that can read minds, get into people's dreams and hypnotize them to reveal their deepest secrets. Joe wanted his powers and his identity kept a secret.
Joe gets into Judy's dreams only to find out there is a lot more to the killing and the abduction than Judy is admitting to, and leads the taskforce on to investigate other suspects and a much bigger crime. Joe is actually "The Elusive Crime Fighter" the FBI's very own secret weapon in the ever more difficult path to truth and justice.
Buy Now On Amazon
Customer Reviews for The Elusive Crime Fighter
An Enjoyable Crime Thriller! – 
This exciting thriller is the 3rd part of the "Joe the Magic Man" series from the author Allan J. Lewis. Story-telling is of a very good quality and the book is fast-paced and action packed. The characters come certainly to life in this crime story, and besides that the story is mostly situated this time in California, with a few exceptions. This crime story, with our main characters Abel Lazarus as "Joe the Magic Man and his sidekick and go-between Alice Timberlake, is filled again with suspense, and our main characters are once again called into action and collaborating with special FBI-agents Burrows and Campbell. The story is about the abduction of Judy Kenbridge and the murder of her father Mark Kenbridge, and after her release after three years the FBI thinks she's holding something back, and its at this point that "Joe the Magic Man" comes into action when he enters her brain and hypnotize her in an attempt to retrieve and reveal the truth about her abduction, and from there the case starts rolling on until a somewhat surprising end. What I do sadly miss in this story is a bit more depth and development, and also the other characters within this tale are not quite fully developed in my opinion, and that's a shame really. I certainly recommend this book, and because I can't give this book half a star so I have to give it sadly 4 stars, simply because its somewhat less complete than the other three parts in this series, but still I call this book: "An Enjoyable Crime Thriller"!
Buy Now On Amazon